Yesterday, the price of Bitcoin unknowingly hit $49,700. Despite the failure of Bitcoin to hit $50,000. But judging by the mood of the market, the market is still hot, and bitcoin could hit $50,000 in the next few days.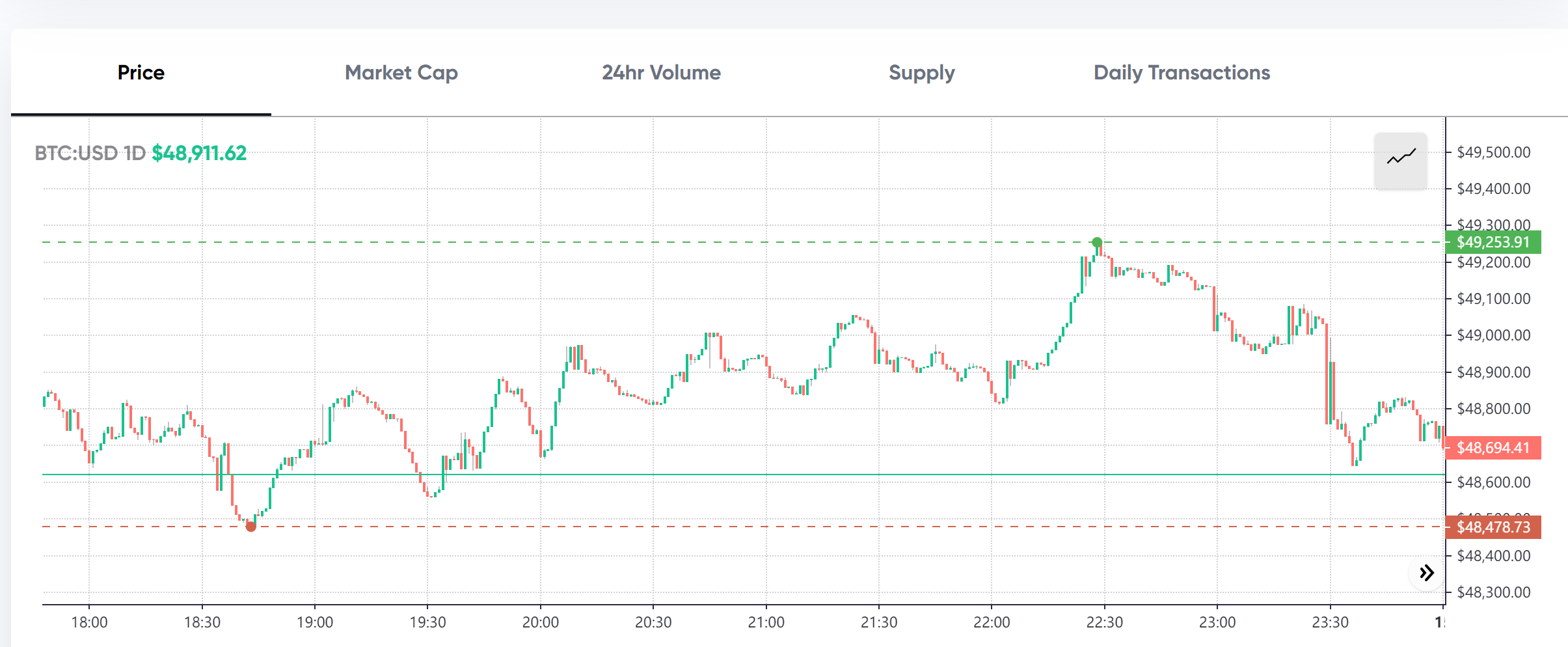 Bitcoin's recent meteoric rise is tied to all the good news that has been unleashed on the market.
First, thanks to Tesla's massive purchase of bitcoin, the market quickly picked up and the price stayed steady at $46,000.
But what's surprising is that Tesla's move is just the first shot in Bitcoin's path to the mainstream. After Tesla, traditional institutions are also starting to make moves.
Global payments giant MasterCard announced last Wednesday that it plans to launch some cryptocurrency services on its website later this year. Allows merchants to accept some cryptocurrencies on the network and opens cryptocurrency payment measures.
Raj Dhamodharan, executive vice president of digital assets at MasterCard, wrote in a blog post: "Our aim is to enable customers, merchants and businesses to deliver digital value the way they want, whether through traditional means or using cryptocurrencies." Thus it can be seen that cryptocurrency has become the current payment city giants have been fighting for the hot property.
On the heels of MasterCard's disclosure, rival PayPal is making further moves into the cryptocurrency market.
Last year, PayPal publicly offered to buy and sell cryptocurrencies to users in the United States. But for PayPal, it was clear that the U.S. market was not up to their ambitions. So PayPal plans to roll out its cryptocurrency product to the UK in the next few months. It also plans to offer encryption to Venmo Wallet holders by the third quarter of this year. Thus, PayPal is planning to expand their presence in the cryptocurrency market.
As payment giants continue to lay out their positions in the cryptocurrency market. Traditional financial giant JPMorgan Chase has also revealed their plans for the cryptocurrency market.
Daniel Pinto, co-president of JPMorgan Chase, said that the future demand for bitcoin transactions will directly influence whether or not JPMorgan Chase will launch a bitcoin service.
As we know, JPMorgan Chase has been eyeing blockchain technology for a long time. Last year, JPMorgan Chase launched its first internal blockchain product, JPCoin, which is intended to serve financial transfers within the JPMorgan system. But when it comes to cryptocurrencies, they have been slow to do so. This is partly because of the legal risks and partly because the market is not mature enough.
But this time, Pinto publicly expressed his confidence in the cryptocurrency market: "Over time, if an asset class is developed that will be used by different asset managers and investors, we will have to get involved. It hasn't met the demand yet, but I believe it will at some point."
From Pinto's remarks, we can hear that Pinto is very confident about the development of the cryptocurrency market. In the future, as long as the cryptocurrency market is big enough, then JPMorgan will be in the cryptocurrency market.
JPMorgan is not the only traditional financial firm interested in cryptocurrencies. Bank of New York Mellon, the oldest bank in the United States, also recently began announcing that it will offer institutional clients a service to hold, transfer and issue bitcoin and other cryptocurrencies. Their ultimate plan is to put digital currencies on par with other assets such as Treasury bonds and tech stocks.
Thus, in the future, with the involvement of major financial institutions, the cryptocurrency market represented by Bitcoin is likely to continue to grow.
Of course, the development process of a new thing is never smooth, and some people support it naturally and some people oppose it.
Taleb, author of the financial book Black Swan, recently tweeted that he has been dealing with his bitcoin holdings.
There are three main reasons for doing so:
A currency is never more volatile than what you buy or sell with it. You can't price goods in cryptocurrency either.

Bitcoin volatility doesn't go down with time or higher prices, which is exactly what you don't need.

Bitcoin is an instrument of crime. The appeal of cryptocurrencies depends on some opacity, as well as their ability to deal with tax fraud and money laundering, and bitcoin is easier to deal with than cash.
If Bitcoin is measured by its properties as a currency, it is indeed not a perfect payment tool. The huge volatility makes it impossible for Bitcoin to perfectly anchor value. This is one of the main barriers to Bitcoin becoming a payment tool.
But that doesn't affect the value of Bitcoin itself. Given the current market positioning, Bitcoin is increasingly seen as a valuable financial asset. People don't want to hold bitcoins because they can be used for transactions and transfers. It's because bitcoin can outperform inflation and increase wealth.