Donald Trump is officially out of office
Donald Trump and Melania Trump left the White House hand in hand around 8 a.m. local time on January 20.
With no tirade, few familiar friends to see him off, and no fighter jets flying through the sky, Trump made his farewell speech in about an hour.
Former US President Donald Trump, 74, took his wife Melania, 51, by the hand as he turned away from Washington, giving the world a figure as bruised and stubborn as a child.
Some initiatives in the crypto field after Biden took office
Biden administration freezes crypto wallet rules pending review
On Jan. 21, the Biden administration froze current rule-writing at all agencies, including FinCEN's proposed crypto wallet rules, led by former Treasury Secretary Steven Mnuchin.The proposed crypto wallet rules are subject to closer scrutiny.
Compound General Counsel Jakechervinsky is optimistic, saying that the crypto market has taken a breeze and is likely to start over, and that the crypto market may turn around.
Joe Biden nominated GaryGensler for the SEC
Biden named SEC Commissioner Allison Herrenlee as the agency's new acting chairman, according to an official Twitter post on Jan. 22.
The nomination of GaryGensler, the former head of the CFTC, is still pending Senate confirmation.
President Joe Biden formally nominated GaryGensler, a former Commodity Futures Trading Commission chairman, to lead the Securities and Exchange Commission.
Speculation about GaryGensler's appointment to the SEC continues.
Gary has rich financial experience in blockchain, cryptocurrency, derivatives and other fields, as well as a CFTC record, so many people are optimistic about his arrival, believing that it is a good news for the crypto field.
In the market last year and this year, we can see that most of the momentum has been driven by the East Coast.
With fiscal policy more aggressive and monetary policy still flexible under Joe Biden, the coming bull market may turn out to be stronger than expected.
How to enter the cryptocurrency market with CellETF
A number of Wall Street firms and large institutional companies across the United States are moving into crypto;
A growing number of sophisticated large investors, such as Microstrategies, family offices, hedge funds and investment banks, are holding bitcoin and other cryptocurrencies;
China is one of the most active markets for DEFI. Many retail investors and institutions have also started to enter the DEFI market, bringing new projects and more TVL and liquidity.
With policy signals from Joe Biden as U.S. president, there is a growing belief that the crypto market is poised for a stronger bull market.
CellETF as deployment in the etheric fang and DeFi comprehensive application on the chain, is committed to provide the most professional global investors decentralized encryption etfs trade services, users can one-stop encryption assets stock, index ETF, secondary trading leveraged etfs, portfolio investment and liquidity, mining and the different types of trading strategies can be satisfied.
Currently, the smart contract framework of CellETF aggregates decentralized protocols such as ETF clearing, automated market making, liquidity pools, liquidity mining, and cross-chain price fact forecasting machines. With only one site, you can embrace the unlimited possibilities of Defi.
On the other hand, American political policy has a strong party color, which is not dependent on the will of the individual.
At present, the Democratic Party has won the White House and the majority of both houses of Congress, the realization of the "full governance".
The DPJ, a left-wing party with a strong emphasis on big government, has proposed tighter financial regulation and higher taxes.
The Biden administration is widely expected to be more friendly to the blockchain industry, with more relaxed regulation, which is good for the industry.
But there are also analyzed that the inauguration of the President of the United States, biden in the next few years, encryption monetary industry in the United States will face much bigger regulatory pressure, will be to be in the bull market phase on digital currency will cause a big blow, even after Gary as SEC as chairman will relax the encryption monetary industry regulation, is also a kind of unrealistic fantasies.
CellETF currently includes cryptographic leverage products such as Bitcoin Leveraged ETF and Ethereum Leveraged ETF. Different from contracts and futures, leveraged ETF will not explode and will not appear the phenomenon of pins in centralized exchanges.
CellETF moves leveraged ETF to Ethereum and realizes the subscription and redemption of leveraged EFT on the chain, which is open and transparent.
For investors who don't have much time for trading, buying leveraged ETFs can save a lot of energy.
Whether it is good or bad, can be based on the research and judgment of the crypto market to choose many, short varieties, with small capital levering big gains.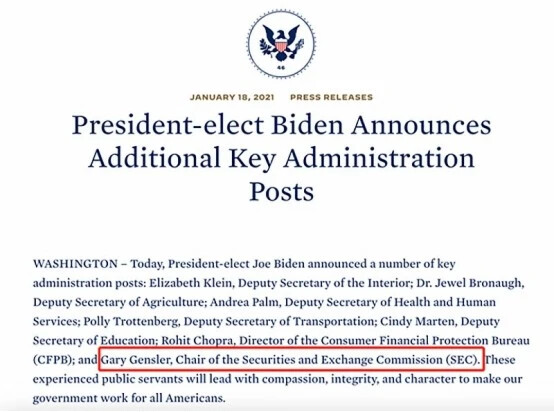 Conclusion
As the market continues to speculate on the impact of Biden's appearance on the cryptocurrency market, it remains to be seen how the cryptocurrency script will play out.