It was a weekend of record highs for cryptocurrencies, with Bitcoin soaring above $57,500 overnight.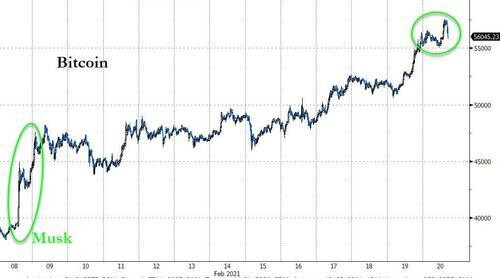 In addition, Ethereum broke through the important $2,000 price mark.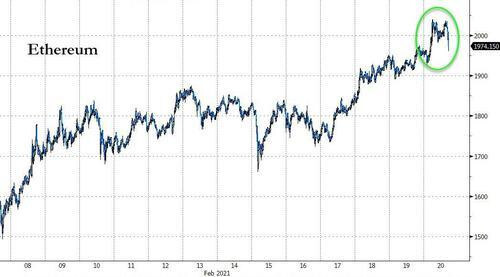 Anthony Scaramucci, a new investor in cryptocurrencies, predicts bitcoin will hit $100,000 by the end of the year, but advises investors to be cautious about buying digital assets. Now, an ETF is appearing first in Canada and next in the United States. It's all part of an accelerated evolution as a store of value."
Why did it go up?
The reasons may be many and varied.
An obvious candidate is US business intelligence company MicroStrategy, which announced yesterday that it will sell $1bn of debt to buy more Bitcoins. MicroStrategy has done this before: It sold $400 million of convertible senior notes in December and added them to a pool of funds used to buy billions of dollars.
MicroStrategy is led by CEO Michael Saylor, a crypto-reviewer turned evangelist. Industry leaders Decrypt spoke with attributed his influence to Tesla's purchase of $1.5 billion worth of bitcoin, which has since skyrocketed in price.
The new all-time high comes as cryptocurrencies are benefiting from a recent wave of "mainstreaming."
Last week BNY Mellon announced that it would invest in crypto technology for its customers. Industry leaders told Leaks last week that the move will change the way asset managers think about bitcoin, driving its price even higher in line with long-term price forecasts from JPMorgan Chase, Guggenheim and others.
The long-term price of bitcoin could reach $600,000, with JPMorgan predicting it could reach $146,000.
To put that move in context: At $4 million, Bitcoin today crossed $1 trillion for the first time.
One factor that could drive bitcoin higher is that every mutual fund needs to own bitcoin. Many graphics cards, also used to mine bitcoin, are out of stock, and foundry silicon wafers such as TSMC are running at full capacity and unable to deliver chips to carmakers.
In the meantime, regulators are likely to stand by, since bitcoin owners and related entities are major donors to governments.
But there are caveats. The biggest problem is the volatility of bitcoin's price. The digital currency is known for wild price swings. Bitcoin is five times more volatile than gold. The key to bitcoin's volatility converging with gold is institutional adoption, and the faster institutions adopt, the faster volatility converges.
Cryptocurrencies are in the news again, thanks to the success of Bitcoin and its soaring value. These "digital assets" are designed to use encryption as a medium of exchange to secure transactions and control the creation of more monetary units. To those of us who simply toil in many parts of the world and care about how we get through the day, these currencies may seem a bit abstract. Still, these currencies have a solid fan base.
With the recent news that Tesla has bought $1.5 billion in bitcoin, many of Elon Musk's followers are already dabbling in cryptography for the first time.
The new investors came after a flood of speculators, taking cash from government checks, had jumped into the market, causing it to soar. The question on the serious investor's mind is whether this is a safe place to park your wealth.
Arguably the main driver of mania is fear of missing out, and this fear is rampant in this market.
With wild predictions of bitcoin soaring to six figures or more, many are claiming that cryptocurrencies are just like gold. Many see it as a way to escape the fall in the value of paper currencies, especially the dollar. Since the dollar is the world's reserve currency, many Americans do not see its main rivals, such as the euro and the yen, as worse places to store wealth, and they magnify the possibility of a dollar collapse.
One big risk for Bitcoin investors is that it could be made "illegal" or banned from trading. If this were to happen in many countries, it would greatly undermine its attractiveness. This may be a claim that it protects investors from itself, or because it is not recognised by those in charge. The biggest reason is that it would protect the power of central banks around the world and their fiat currencies. It would be rather foolish to think that those who control fiat money will hand over their power over the financial system and go quietly into the night.
The biggest question about Bitcoin remains the old question of its disappearance. That means it could disappear in the blink of an eye. While this is almost any investment, it is especially true for intangibles. To make matters worse, one of the main problems with investments like Bitcoin is that when the wheels come off, it can happen so quickly that there is little time to react.
While many feel that the decision of large banks and institutions to acknowledge Bitcoin constitutes an important stamp of legitimacy on the nascent asset class. This idealistic technology meant cutting banks and other intermediaries out of the "ring" and limiting their ability to store wealth, an explanation that seems to have gone mainstream. Keep in mind that this container of value, which is mainly used by the rich so that they can stay rich, may force the group to accept it, but that doesn't mean they will invest in it.
If someone is selling their house to you for a small number of diamonds, they are probably only doing so because they know they can be sold quickly in an active market. That means that just because a bank will now store bitcoins on behalf of its asset management clients, that doesn't guarantee the value of bitcoins or force banks to accept the asset class. Simply put, they are trying to meet customers' needs and give the impression that they are up to date with current trends. Adding to their incentives is the lure of fees for most of the services they provide.
The other thing we hear about is mining bitcoin. The process uses a lot of energy and is getting harder to do. As some YouTube videos of the problem attest, it's hard to make money doing it.
It is a bit ironic that so-called "smart" companies and socially responsible people, claiming to care about climate change, turn around and buy digital tokens that consume more electricity than some countries to maintain.